Room Addition Sacramento
Your home is the best place in the world. It is the home sweet home where you feel the safest. Many people spend all their savings when they purchase a new house just after getting married. The new house feels like a dream palace. However, nothing in the world can stand the winds of time. After a couple of years, the same dream palace feels to become small. And, after kids, everything gets changed. You feel the need for even a bigger house. Some people earn enough that they can purchase a whole house but others cannot. There are many people who are forced to live in the same small house with their family. But that does not mean you can't do anything. It doesn't take long for your family to outgrow the house. When you bring a new baby home or the older child moves home.
This happens every day in Sacramento California. You might want a room addition Sacramento in the house or you're looking for a den or sun porch. Don't sell the house in Sacramento to find a bigger house, just do a room addition. A standard room addition in Sacramento is the main home improvement project which guarantees the increase of value in your house because house values are based within the square footage. There are many works around to the low space problem. The best you can do is adding a new room and if that is your decision we are here to help you. Monster Contractor is the best agency that can do Room Addition Sacramento CA. Our team of experienced experts is always available for the people of this great city.
Monster Room Addition Service Sacramento
There are many things your family needs to consider when planning the room addition. First, the lot size is the main factor. If the yard is not big enough for your room addition Sacramento, then consider other options, such as going up not out. Although, many of our homes are created in a way in which the room addition is feasible. If you are not positive if the project will work on your home, Monster Room Addition will come out and provide advice with our in-home consultations.
Room Addition Sacramento are by nature highly involved interior renovations; this is why having our experienced contractor at Monster Room Addition Sacramento California is so integral. A huge deal of planning needs to be accomplished in order to ensure the room addition integrates with your existing construction. Considerations in the electrical work, cooling, and heating, interior, plumbing, and exterior. Adding rooms is not easy work to do; it requires a lot of expertise and work experience. There are many contractors that offer this type of service but no one of them does it better than us. There is a big reason why the best were when it comes to Room Addition Sacramento.
We divide the whole process of room addition into many phases. Firstly, we will sit with you and write down your demand. Our experts will also take measurements of your house. Faulty foundation and weak walls can be very dangerous for room Addition. Our experts will explicitly look for damages in your house and there is something that needs to be fixed, we will do that first. After completing a basic design, we will set up a meeting with your to ask your recommendations. If there isn't any, our workers will straightaway move on to the construction phase. Do not worry about the cost of construction. People have a lot of faith in us because we do Room Addition Sacramento at much less price. The build materials that we will use for the construction will be of top-notch quality. Moreover, we will design the new room in such a way that it blends to the design of your house. No one would be able to tell that which one is a new room and which one is the old one.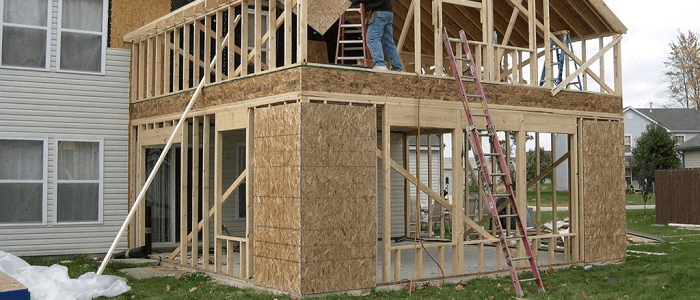 Room Addition Service Sacramento
At Monster Room Addition Sacramento, our contractors specialize in room addition in Sacramento which match the current home layout and design. Monster Room Addition Sacramento also builds carports, attached and detached garages, decks, and much other room addition Sacramento. Most importantly, part of the room addition process is getting your wife's input of the designs. Our Contractors know it's often very hard for homeowners to create the questions they need answers. Monster Room Addition Sacramento California wants you our client to feel welcomed asking questions and we'll always do our best in order to provide your answers. During the entire project, our staff will keep your spouse and you informed with any progress and remain available for your feedback.
At Monster Room Addition, our contractors take care of each and every step of your room addition Sacramento, building the foundation, getting the permit, framing, and siding, to the finish paint and carpentry. There's no need contacting multiple contractors; our room addition contractors in Sacramento can handle anything. Call today (916) 550-4381 or fill in the contact us form, our room addition department will reach out shortly. Interior Rooms: Bedroom, Basements, Bathroom, Closet, Craft Room, Den, Family Room, Kitchen, Laundry Room, Living Room Exterior Rooms: Attic, Deck, Garages, Gazebo, House, Patio, Shed, Sun Room, Utility Room, Workshop
Who is Monster Contractor?
Monster Contractor is a full service General Contractor & Room Addition Service Sacramento. We provide our industrial, commercial & residential clients with premier service and quality assistance located throughout Sacramento. We work hard to provide what seemed to be lacking in late years, a contractor who wants to provide quality service at a fair price. Many of our clients call us back year after year. Our clients love the personal attention and quality of service.
Plus when they know that we are available 24/7 & have a mobile app well that is just the icing on the cake. When we get busy our clients are always happy to wait because they know we are able to provide the quality service they expect of us year after year. So, are ready to add additional room in your house? Do not forget to call the best agency that offers most affordable Room Additions in Sacramento. Our clients love us because put their needs on top of everything. We do not work to maximize profits or our salaries. Our team follows strict guidelines and only follows the rules that are set by you. If you haven't used monster contractor before why not go with a company thousands of clients call year after year.
---
Monster Contractor of Sacramento is a fully licensed and insured construction company. Whether you need commercial, industrial or residential construction we'll have our best journeymen on the project. We have over 50 years combined experience in the commercial construction and industrial construction industry. Property Maintenance like Electrical, Plumbing, Janitorial, Gutter Cleaning, etc. will keep your facility in Sacramento, California running smoothly. Commercial Tenant Improvement in Sacramento is easy with us, apartment building and property owners have trusted us for years to improve the lives of their tenants.
From small projects to new builds we have managed all types of Construction Management projects in Sacramento, California. Retirement homes, government offices and apartment buildings are just some of the Facility Maintenance services we offer. Green Building Construction - Working directly with YGRENE and HERO we can be your ally in energy proofing your property in Sacramento. We have the best solutions, in all aspects of home remodeling and residential Residential Construction in Sacramento. We are a Custom Home Builder  from bare dirt to your dream home, we design and build breathtaking homes in Sacramento. Are you doing a Home Remodel?  
Room Additions, Kitchen Remodel, Bathroom Remodel & Partial remodel or complete, we can simplify your remodeling experience Sacramento. Call Monsters Concrete for a complete estimate and costs to repair foundations and other concrete products. We even have a Home Maintenance  and home cleaning solution, we make ourselves available to the smallest detail. Earthquake Damage Restoration Retrofit and restoration, Fire Damage Restoration mitigation can be expensive if your not familiar with restoration in Sacramento. Insurance Restoration and working with insurance companies is difficult, we simplify the process with our experience. Storm Damage Restoration can happen at anytime of the year, we offer services specialty for each season. Water Damage Restoration from leaks will destroy your home, fast comprehensive repair from Monsters Roofing is the best solution.