Commercial Tenant Improvement Woodland
Okay, so you have built a commercial building at an important place in the city. Your next goal is clearly to make a lot of money and the best way to do that would be offering the place on lease. There are people who have earned millions of dollars by this method. However, you also have to take good of the infrastructure. There will be occasions when you will have to renovate or improve the infrastructure of your building.
You will feel the need of doing this when on the onset of a new even or when a new tenant takes the place on lease. But managing everything can be hard for one brain. But do not worry because you have come to the website of the best agency that provides commercial tenant improvement Woodland CA. You will not regret this decision. We are an expert in the construction field. Our team has been working in this area for a really long time and this long experience helps us better understand all the aspects of our work. Monster's tenant improvement contractor of Woodland, Monster Construction's objective is ensuring our Woodland clients get the highest quality product, within schedule, and at the lowest.
Our Tenant Improvement contractor in Woodland, California's goals are simple, to be the most valuable resource our clients could ask for through innovative execution of projects and responsive service in the most economical fashion. Our completely "integrated approach" differentiates Monster Tenant improvement contractor in Woodland as the best commercial facility modification company by leaps and bounds. Call Woodland's Tenant Improvement Contractor today (916) 550-4381.
Monster Construction is the leader in Woodland for new tenant improvements. When the time comes to improve the restaurant, office, industrial or retail space, we help you through each step, from construction to design. Monster quality tenant improvement specialists of Woodland makes sure your tenant improvement project is completed on budget & on time. Monster Construction has performed tenant improvement in Woodland since 2003. Our tenant improvement contractor provides distinctive and creative construction for a wide variety of commercial tenant improvement needs in Woodland, from large office spaces, warehouses, restaurants, retail, showrooms and medical.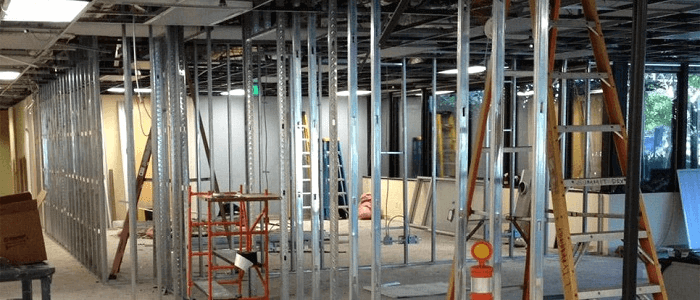 Monster Tenant Improvement Contractor In Woodland
As the best agency that provides Woodland tenant improvement services, we employee the top experts of the city. We do not like flaws in the projects. Our designers and architects know there job very well. Monster tenant improvement contractor offers "in house" design-build capabilities in order to create exactly what tenant improvement's your business needs. We are sensitive to your tenants, providing value engineering, competitive pricing, and complete flexibility.
Monster Construction carries the weight start to end, offering complete peace of mind through our turn-key service. We are a liaison between tenant and landlord to ensure a transition schedule and smooth construction, and to ensure the final product will meet your satisfaction. Our Commercial Tenant Improvement service guarantees the smoothest construction to ensure your project is completed on budget and on schedule. Looking for Woodland's Commercial Contractor to outfit and update the office space or prepare a new existing office space locally?
Monster Contractor is the right place in Woodland. Monster tenant improvement has the Commercial Construction expertise you expect and need and our contractor also provides personalized attention and service usually only seen from custom home builders. We give the most competitive quotation in the market. No one can do construction job cheaper than us. It is because we rely on the best technologies and most efficient methods to do the work. Everything that our workers do is managed in a very systematic way. Our management team keeps an eye on everything. Moreover, many a times our team does the job even before the estimated date. We divide the whole work of commercial tenant improvement Woodland into phases.
The first phase is to listen to your needs, so that our designers can get an idea of what exactly do you want. In the next phase we analyze the whole place and take all the measurements. Our experts also check the infrastructure for any damages because if the faults are not fixed, they can create a problem for you in the future. After doing the calculation of every big and small thing, we will present you with a detailed plan. If you agree, then our team will start the construction work. Your needs our priority. We will not do anything against your instruction. Our workers, experts, designers and managers will strictly follow the rules defined by you.
Woodland Tenant Improvement
Our have solid relationships with trusted locally owned commercial contractors like Plumbing, Electricians & HVAC Contractors in Woodland. Our Builders and Renovators are accustomed to working toward commercial finish as commercial flooring ( Carpet, VCT, Tile, Vinyl base, Sheet Vinyl,) acoustical ceilings, commercial plumbing fixtures, commercial doors and hardware, custom mill work (custom counter tops, cabinetry and more) and quality wall finishes. Monster Contractor also has the experience needed to rest assured the decision to hire Monster Commercial Tenant Improvement was the right one.
We have been in business since 2003 in Woodland, California. We have completed a few dozen commercial projects including Medical Offices, Dental Offices, and Business Offices in Woodland. We use the most advanced tools available in the market. Our dedicated team keeps looking for the latest scientific and technological developments that are going on around the world. This helps us in pushing the competitors behind every time. And do not worry, every tool that our workers will use to do the work will be absolutely safe.
Our experts do a thorough checking of every tool in the garage at the end of the day. This is done to eliminate any chances of accidents at the work. We only employ licensed and trained professionals. So, you can expect high quality work. We have a really long list of happy clients who do not hesitate to recommend us every time someone asks them for a construction agency. Call the Woodland's Tenant Improvement Contractor TODAY! (916) 550-4381
Who is Monster Contractor?
Monster contractor is a full service general contractor & construction company located in Woodland. We provide our industrial, commercial & residential clients with premier service and quality assistance on Commercial Tenant Improvement located throughout Woodland California. We work hard to provide what seemed to be lacking in late years, a contractor who wants to provide quality service at a fair price. Many of our clients call us back year after year.
We offer the best Commercial Tenant Improvement in Woodland California. Our experts possess a really great experience in their fields. This is why people love our services and always come to us for every conduction work. Over many years, we gained trust of many clients and we are really proud of it. Our clients love the personal attention and quality of service. Plus when they know that we are available 24/7 & have a mobile app well that is just the icing on the cake.
When we get busy our clients are always happy to wait because they know we are able to provide the quality service they expect of us year after year. There is a big difference between us and other Woodland bathroom remodeling construction agencies. We only work to satisfy the needs of our clients and other agency work to maximize their profit. So, do not waste any more time by looking at the websites of other construction agencies because you have to the right place. If you haven't used monster contractor before why not go with a company thousands of clients call year after year. Call us now and see for yourself why we are known as best agency to offer commercial tenant improvement in Woodland.
---
Monster Contractor of Woodland is a fully licensed and insured construction company. Whether you need commercial, industrial or residential construction we'll have our best journeymen on the project. We have over 50 years combined experience in the commercial construction and industrial construction industry. Property Maintenance like Electrical, Plumbing, Janitorial, Gutter Cleaning, etc. will keep your facility in Woodland, California running smoothly. Commercial Tenant Improvement in Woodland is easy with us, apartment building and property owners have trusted us for years to improve the lives of their tenants.
From small projects to new builds we have managed all types of Construction Management projects in Woodland, California. Retirement homes, government offices and apartment buildings are just some of the Facility Maintenance services we offer. Green Building Construction - Working directly with YGRENE and HERO we can be your ally in energy proofing your property in Woodland. We have the best solutions, in all aspects of home remodeling and residential Residential Construction in Woodland. We are a Custom Home Builder  from bare dirt to your dream home, we design and build breathtaking homes in Woodland. Are you doing a Home Remodel?  
Room Additions, Kitchen Remodel, Bathroom Remodel & Partial remodel or complete, we can simplify your remodeling experience Woodland. Call Monsters Concrete for a complete estimate and costs to repair foundations and other concrete products. We even have a Home Maintenance  and home cleaning solution, we make ourselves available to the smallest detail. Earthquake Damage Restoration Retrofit and restoration, Fire Damage Restoration mitigation can be expensive if your not familiar with restoration in Woodland. Insurance Restoration and working with insurance companies is difficult, we simplify the process with our experience. Storm Damage Restoration can happen at anytime of the year, we offer services specialty for each season. Water Damage Restoration from leaks will destroy your home, fast comprehensive repair from Monsters Roofing is the best solution.